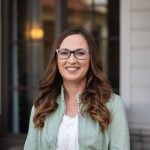 Mollie Riss
Licensed REALTOR®
A little about me
After living in Kansas City for over 25 years, its hard to not fall in love with all our city has to offer. I have had the pleasure of living in several different pockets of the city from college days to parenthood. No matter what season of life you are in, KC has a spot for you and I love sharing my knowledge and experience with my clients. My communication skills, attention to detail, quick problem solving and ability to negotiate allow me to make the home buying or selling process smooth and painless.
When I'm Not Working?
When I'm not working with clients, you will most likely find me with a cup of coffee in hand spending time with my husband and our 4 active kids.
I'm Passionate About
Supporting foster families in the KC community and parents of special needs children, adoption, mental health and remembering to always keep a positive attitude.